Is there good snorkeling in Mykonos?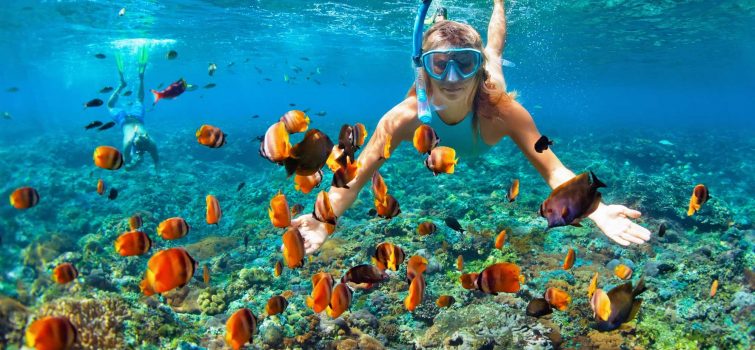 Mykonos is an enchanting destination not only because of the cosmopolitan, luxurious and buzzing life it prides itself in, but because of its elegance, its finesse and the beauty of its landscape. A mesmerizing place where narrow, cobblestone alleys, zig-zag through colourful shops and market stands, through traditional backyards and local taverns. Wander down the busy winding paths, explore traditional villages, settlements and the landmark Windmills,  reach the turquoise, crystalline waters of the Aegean Sea and nestle under the purple foliage of the bougainvilleas, hanging lazily over the  famous white walls of Cycladic architecture.
Mykonos thrives in its grand variety of things to do, and beautiful places to visit while staying on the island. Whether you opt for high-end, gourmet dishes and you wish to visit the best restaurants in Mykonos or you want to enjoy the sun and explore the best beaches on the island, one thing is certain, you will love every minute of it. The island hosts some of the world's most popular clubs while at the same time, it boasts some of the most secluded and peaceful beaches on which you can relax in tranquility, go fishing, swimming and snorkeling too.
Great spots for snorkeling in Mykonos
Mykonos boasts over 30 beaches; some are very busy and popular, buzzing with parties all-day long.  Some are cosmopolitan and you can spot celebrities from all over the world. Some are more secluded and peaceful and are ideal for fishing, scuba diving, snorkeling and enjoying quiet holidays in the sun.
Kalafatis Beach. The long, sandy beach of Kalafatis is ideal for everyone interested in exploring the crystal waters of the Aegean. This is an organised beach, with sunbeds and it is family-friendly. The waters are particularly clear and snorkeling is a great experience to enjoy.
Agios Stefanos Beach. Lying only 5km north of Chora, the Agios Stefanos beach is a charming, secluded cove, protected from the crowds.  Though it is an organised beach with many activities offered, it remains a peaceful destination to enjoy swimming, sunbathing, walking around the soft sandy coast and snorkeling in the beautiful blue waters.
Agios Ioannis Beach. Just 5km southwest of Chora, the Agios Ioannis Beach is an amazing destination for relaxation, swimming and snorkeling. It is one of the most beautiful beaches on the island and it remains a hidden gem, protected from the crowds even during peak season.
Agios Sostis Beach. Perched 8km northeast of Chora, this enchanting, quiet, sandy beach is a paradise for everyone who wishes to escape the crowds. The beach is non-organised but it offers beautiful, deep blue waters, ideal for snorkeling and swimming.
Panormos Beach. This peaceful, partly organised beach lies 7km northeast of Chora and it boasts a beautiful stretch of sand, welcoming visitors who wish to enjoy swimming, sunbathing and snorkeling.
Mersini Beach. Situated 13km away from Chora on the northeast, Mersini is a non-organised, sandy beach. Enveloped in a landscape of natural beauty and serenity, Mersini is an isolated beach that guarantees relaxation, a sandy coastline, moments of tranquility and beautiful, crystalline waters that you can explore at your own pace.
Tigani Beach. On the northeast of Mykonos town, 14km away, lie two charming beaches, the Pano and Kato Tigani. These are two isolated beaches, enveloped in golden sand and shimmering blue waters that wait to be explored.

If you want to experience the beauty of Mykonos yourself, explore the numerous beaches, savour the local delicacies and wander around the traditional villages, book with us! and let us help you experience dreamy holidays, relaxing in the sun and swimming in the shimmering blue waters.