Top 8 Best Beaches to Visit on Mykonos Island, Greece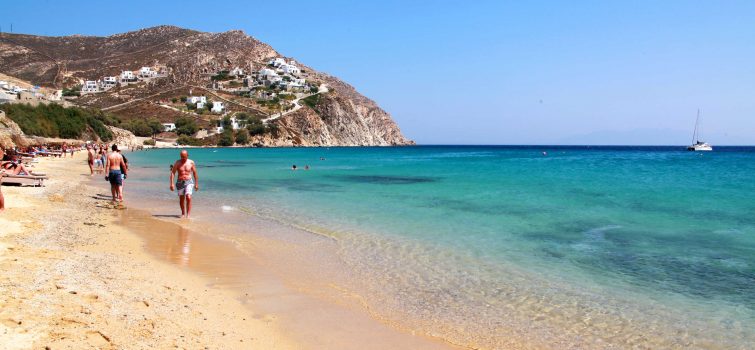 Mykonos beaches  amongst many things are an extremely good reason to spend your summer vacation on this heavenly island.
Popular and crowded or remote and isolated, Mykonos beaches will seduce you with their crystal clear waters and spectacular views, there is a beach to fit every taste.
Listed below you may find some of the best beaches in Mykonos
Located on the beautiful bay of Ornos, Adorno Suites' visitors are just moments away from the most idyllic beaches Mykonos island has to offer. Enjoy crystal-clear waters and endless hours of fun and relaxation under the hot Cycladic sun.
8. Ftelia
Due to its strong, northern Meltemia winds, Ftelia is a hugely popular spot for windsurfers. However, it's usually an isolated place throughout the summer months, with its windy conditions make it less than ideal for swimming and sunbathing. But it still deserves a trip even for non-windsurfers, with a number of the best Greek bars and clubs close by it to sit and admire its stunning landscape. Located 7 km northeast of Mykonos Town, Ftelia beach is accessible only by car, scooter or taxi as there is no public transport on offer.
7. Kapari beach
Just a seven minute's car ride from Adorno Suites on the west part of the island, Kapari may be small and secluded, but its unique setting and freshwaters turn it into a hidden gem. Its sense of seclusion is also a big reason for its reputation as a nudist-friendly beach. You will need to take food and drink with you – which you can easily get from the Adorno Suites restaurant – as Kapari has no bars or restaurants to speak of, but it is just a short walk away from the popular Agios Ioannis beach.
6. Psarou beach
The cosmopolitan Psarou is notorious for its luxurious beach bars, which attract local and international celebrities and their deluxe yachts to its harbour. Psarou does get very busy in the summer but the running theme is it is quite pricey, with expensive restaurants nearby and the cheapest sunbeds coming in at 25 euros each. Psarou is just a 10 minutes' drive away from Adorno Suites accommodation, but you are probably better off using public transport to get to its emerald green water, with car parking an issue due to its popularity. There's a bus you can catch from the Fabrika terminal in Mykonos Town or you can walk up the coastline from Platis Gialos for about 10 minutes.
5. Ornos beach
Ornos Beach, in the south part of Mykonos, is the closest beach to Mykonos Town, set just 2.5km away from the island's capital. With fine, golden sand, its turquoise, crystal-clear waters and wide range of restaurants and bars close by, Ornos is considered one of the most family-friendly beaches on the island.
There are plenty of sunbeds available for the ultimate relaxation, but it also provides plenty of activities to do throughout the day. For the thrill-seekers, Ornos has schools for scuba diving, water skiing and windsurfing.
Ornos is easily reached by public transport, with local buses frequently leaving from Mykonos Town, or you can get there in 10 minutes by car.
4. Elia beach
As we all know the Mykonos island is famous for its windmills. However, there is another reason why visitors return to the island year after year: the special, 'Carpe diem' vibe that includes nudism too. One of the best Nudist beaches in Mykonos is Elia Beach. 
Set 10 km from Chora, Elia is the longest beach but often one of the quietest and most tranquil atmospheres on the island. Almost the entire beach is packed full of umbrellas and sun loungers, but there is a small section free for those who prefer to sunbathe on the sand.
Elia is considered the most gay-friendly beach on the island and it often plays host to nudists. It's just a short walk west to Agrari beach, with a couple of smaller beaches in between also popular for gay crowds. It's conveniently just a 25-minute walk from Mykonos Town but you can also get there by catching a bus from the Old Port terminal, with 5 or 6 trips a day in high season. There's also a boat from Platis Gialos and plenty of parking available if you have a car.
3. Platis Gialos beach
This is the perfect family environment with its shallow, crystal waters and number of shops and restaurants in the area. There are plenty more things to do in Mykonos, as it also caters for those interested in water sports, with beginners and experts able to enjoy water skiing, wakeboarding and barefoot skiing through Platis Gialos Water Sports. Just 4 km from Mykonos Town, Platis Gialos is easily accessible through public transport, with a 15-minute bus from Fabrika terminal dropping you off right outside the beach. From Platis Gialos, you can also discover other beaches like Paradise and Super Paradise with water taxis departing around every hour.
2. Super Paradise beach
Accessible by boat, car or shuttle bus, the uniquely and of the most famous beach of Mykonos is the beautiful beach of Super Paradise is a must-visit during your stay in Mykonos. Although it still has a beach party reputation, it is still ideal for families with plenty of sunbeds and its inviting waters. Located 7 km southeast of Mykonos Town, the Super Paradise Beach Club put on a shuttle bus leaving from the Fabrika terminal that takes just 10 minutes to get to the beach. From Adorno Suites, it's just a 20 minutes' car journey.
1. Paradise beach
The most popular of all the beaches on Mykonos, Paradise is renowned worldwide for its never-ending beach parties and attracting A-list celebrities. It's home to some of the best nightspots on the entire island, with the open-aired Cavo Paradiso hosting some of the biggest DJs on the scene including David Guetta, Steve Aoki and Armin van Buuren. As well as its amazing nightlife, Paradise beach is covered in umbrellas and sunbeds to sit back and relax and boasts a host of activities to get your teeth sunk into. With water skiing, canoes, pedal boats, parasailing, jet skis, banana boats and scuba diving on offer, you'll never run out of things to do.