Top 6 Best Bars and Clubs on Mykonos Island, Greece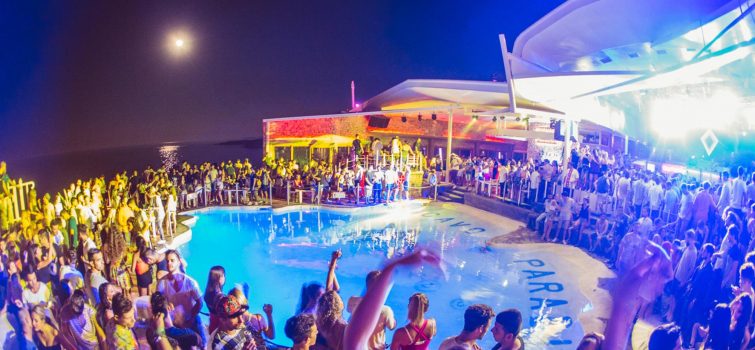 Mykonos – the island that never sleeps. It may seem tranquil and calm with its stunning landscape, but there's a good reason it's considered Greece's answer to Ibiza. At night, Mykonos lives up to its glittering reputation, with hardcore clubbers partying until the small hours to the world's biggest DJs alongside A-list celebrities.
For those after a more relaxed atmosphere – fear not. From the charming bars of Little Venice to the quaint cocktail bars of Chora, Mykonos has you covered.
6. Queen of Mykonos
Based in the heart of Chora, Queen of Mykonos is the perfect champagne and cocktail bar to kick start your night. Open from the early morning, you can start your day with a tea or coffee and return in the evening for something a bit stronger, with plenty of unique cocktails to pick from. It does host a DJ set later on, but Queen of Mykonos is more a bar to limber up at before taking the night to the next level.
It's located just five minute's away from Fabrika terminal, where you can take buses to and from the top nightclubs around the island.
5. Kalua Beach Bar
Sat on the popular Paranga beach, Kalua Beach Bar more than lives up to its motto of "Every day is a beach party!" Enjoy trademark Kalua Watermelon cocktails under the Aegean sun during the day and dance like nobody's watching until the sun rises to live DJ sets.
Paranga beach has buses going to and from Fabrika station in Mykonos Town throughout the day, which take around 15 minutes.
4. Tropicana Beach Bar and Restaurant
One of the many to look out for on Paradise Beach is Tropicana, an all-day bar where you can start the day with breakfast on the beach and, when the DJs take over, party the night away from 4.30pm.
Once voted the Sexiest Beach Bar by Travel Channel, Tropicana continues to attract young, fashionable crowds to their epic all-night beach parties.
Paradise Beach is easily reachable by public transport from the Fabrika station and the Old Port in Mykonos Town, with a bus ride taking around 20 minutes. You can also get to Paradise Beach via water taxis from beaches such as Platis Gialos.
3. Montparnasse – The Piano Bar
An alternative to the never-ending beach parties is Montparnasse – The Piano Bar based in Little Venice. Going strong since 1983 with its "distinctive cocktails" and "eclectic entertainment" every night, this bar is the perfect location to watch the sunset over Mykonos' iconic windmills on a romantic night out, as Lewis Gilbert directed Shirley Valentine to do in his historical Greek-inspired film. After sundown, you can enjoy live piano music and cabaret shows until the early hours.
Located just north of Mykonos Town, you're surrounded by plenty of charming drinking holes to mix up your night. But should you plan on hitting the bigger clubs after, The Piano Bar is just six minutes away from the Fabrika bus station by foot.
2. Super Paradise Beach Bar
Situated on its very own private beach, Super Paradise Beach Bar is renowned for drawing in celebrities and the diehard clubbers. As well as its superb nightlife, Super Paradise Beach is perfect for relaxing on the sunbeds with a cocktail throughout the day before the nightly DJ sets kick in.
Super Paradise Beach Bar is incredibly stress-free to reach, with daily shuttle buses departing Fabrika terminal every 30 minutes from 11am to 11pm. There are also buses to take you back, again every half an hour from 11.30am to 11.30pm – but you won't be thinking of leaving.
1. Cavo Paradiso
Arguably the most well-known club in Mykonos, the open-aired Cavo Paradiso on Paradise Beach keeps you dancing and drinking until dawn after the bars in Mykonos Town have settled down. Having had the likes of David Guetta, Steve Aoki and Armin van Buuren on the decks, Cavo Paradiso can promise you an incredible set. It may be worth booking a table in advance for this one.
You can get to Paradise Beach by bus from the Fabrika terminal and the Old Port in Mykonos Town and it takes just 20 minutes. Paradise Beach is also reachable via water taxis from beaches such as Platis Gialos.