Top 10 Best Things to do on Mykonos Island, Greece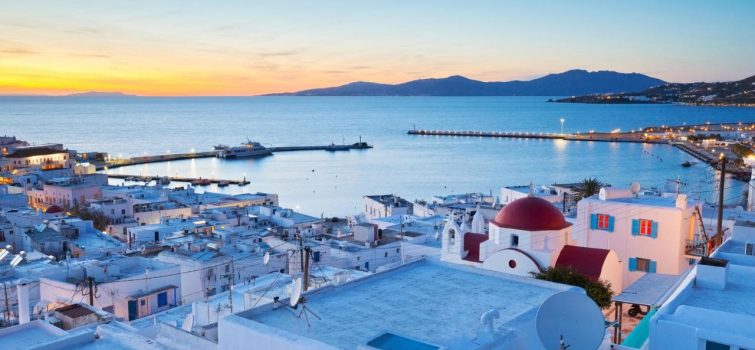 Whether you're after a relaxing beach retreat with the family or looking for exciting nightlife, the cosmopolitan island of Mykonos, Greece's answer to Ibiza, caters for everyone. A typical Mediterranean paradise, Mykonos boasts over 300 days of sunshine throughout the year making it the perfect destination even out of season.
10. Soak up the Mykonos culture at its museums
There are two noteworthy museums to explore during your stay in Mykonos; the Aegean Maritime Museum and Archaeological Museum of Mykonos. The former, located in the heart of Chora, delves into the island's nautical history and is open from 10.30am to 1pm and 6.30pm to 9pm every day. The latter, a small museum set on the Chora harbour, exhibits artefacts dating back to 9th century BC from excavations throughout Mykonos and nearby islands Delos and Rhenia. The Archaeological Museum of Mykonos is open from 8am to 3pm.
9. Delos Island
The last thing you'll want to do is leave Mykonos island, but a 30-minute boat trip for half a day on the ancient island of Delos is essential. Although now unpopulated, Delos was once the religious and political hub of the Cyclades and is steeped in culture and history. The mythical birthplace of the Greek god Apollo, you can wander around this vast archaeological site, comparable to Pompeii, and appreciate the ruins of the three temples to Apollo and once-grand Propylaea structures.
8. Don't miss Mykonos' famous windmills
The iconic windmills of Mykonos stand on a hill overlooking Mykonos Town and provide one of the best panoramic views of Chora and the harbour in the distance, especially at sunset, as Shirley Valentine did in Lewis Gilbert's film. Built in the 16th century, the windmills, known as Kato Milli to locals, were used to grind grain and feed the islanders back in the day. Although no longer operational, they do still demonstrate the wind power on the island.
7. Explore Mykonos on a scooter
One of the best and convenient ways to get around Mykonos is on a scooter, which can be rented at any of the numerous rental shops located all over the island. Enjoy the stunning views en route and let the winding roads lead you to some incredible beaches and towns. You will need to be over the age of 18 and hold a driving licence to rent a scooter.
6. Catch a show at Cine Manto
Cine Manto is a picturesque open-air cinema in Matoyianni. This will be a cinematic experience like no other, surrounded by palm trees and cacti inside the Municipal Garden under the bright stars of the Aegean sky. Available from June 1 to September 30 every year with two back-to-back screenings every day, you can enjoy these box office movies in their original language with Greek subtitles. There is also a Cine Manto restaurant, making it the perfect way to end your day, presenting the same kind of cuisine available at the Adorno Suites restaurant.
5. Paint the town in Mykonos' legendary nightlife
Mykonos may be calm and peaceful in the day, but at night it lives up to its glittering party reputation. It is often referred to as the Ibiza of Greece and it's no surprise why partying and clubbing until the small hours to the biggest international DJs on the scene alongside A-list celebrities.
Arguably the most well-known club in Mykonos, the open-aired Cavo Paradiso on Paradise Beach keeps you dancing and drinking until dawn and has had the likes of David Guetta, Steve Aoki and Armin van Buuren on the decks. It may be worth booking a table in advance for this one.
Another of the many to look out for on Paradise Beach is Tropicana, an all-day bar where you can start the day with breakfast before seeing out the night with an epic beach party.
An alternative to the never-ending beach parties is Montparnasse – The Piano Bar based in Little Venice, with "distinctive cocktails" and "eclectic entertainment" every night.
4. Lose yourself in the alleys of Mykonos Town
Walk between the narrow streets of Mykonos Town from bars to restaurants, from cafés to boutiques, from shops to churches and never run out of things to do. It truly is an Instagrammer's paradise with its beautiful buildings and distinctive, Cycladic blue and white colours. It's the perfect place to pick up your Greek souvenirs and take a snap of the harbour.
3. Scuba diving
A trip down to the Cycladic seabed proves Mykonos' charm and beauty is not restricted to land. Dive Adventures on Paradise Beach is regarded as one of the best scuba diving centres on the island, with two wrecks and various caverns and reefs close by to explore.
The Kalafati Dive Center on Kalafati beach guiders you 20 to 30 meters deep to "Anna II", a well-preserved cargo ship that sunk in 1995 that takes 10 minutes to get to by boat.
2. Relax on Mykonos' breath-taking beaches
Mykonos has countless idyllic beaches to get to know during your time on the island. Paradise beach is a popular spot for never-ending beach parties as well as water sports and a bunch of fun activities such as water skiing, canoes, pedal boats, parasailing, jet skis, banana boats and scuba diving.
Ornos and Platys Gialos are considered the most family-friendly beaches on the island, with direct buses to and from Mykonos Town and more than enough restaurants surrounding both to choose from.
The likes of Agrari Beach, Fokos Beach and Lia Beach are the most secluded and will require you to a rent a car or scooter to get there with no public transport available, but they're well worth the trip.
1. Little Venice
There's no surprise why Little Venice is considered one of the most stunning places on Mykonos island. This picture-perfect setting is the ideal place to watch the sunset over the harbour while sipping a cocktail at one of the many charming bars and restaurants it has to offer. Built in the 16th century, many ship captains conveniently decided to settle down in Little Venice's unique homes overhanging the water.